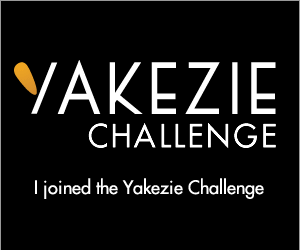 I've decided it's time to challenge myself to be a better, more consistent, more informative blogger. Writing these posts has been a lot of fun, but as a goal-oriented person, I need something to aim for. Enter the Yakezie Challenge. The Yakezie Challenge is a 6 month competition against myself to increase my site ranking. Should I succeed, I will join the ranks of several of my favorite personal finance blogs, including Retire By 40, Financial Samurai, The College Investor, and many others. Visiting the Yakezie blog network every day has given me incredible insights into money, health, and life, and I hope that one day I can bring insights to others.

The goal isn't just to get my Alexa ranking below 200,000, it's to challenge myself to produce quality content on a regular basis. To research topics and share what I learn with others, to write about original subject matter or present often re-hashed subject matter in an original way, to entertain, to write posts that elicit constructive feedback from my respected peers, to become a part of the online personal finance community.
When I joined the challenge yesterday, my Alexa ranking was 5,872,956. Today it is 6,867,504. Apparently my blog is getting worse by the day! At this rate, in 6 months my ranking will be over 180,000,000.

I'm very thankful to the people who have already taken the time to visit my blog and post encouraging words. I'm looking forward to producing more valuable content and I do hope you'll continue to stop by.